What Makes Galapagos Safari Camp Family-Friendly
Cited as one of The 18 Best Family Summer Vacations to Take by Conde Nast Traveler, and one of five 'kid proof' destinations by Town and Country, Galapagos Safari Camp is a popular choice for families who appreciate personalized service, flexible schedules and the freedom to explore the Galapagos Islands at their own pace.
Our aim is to provide experiences, amenities and service that make life easier for children, parents and grandparents.
"The one comment we get the most is that 'I feel at home and I feel looked after' which in my books is the highest compliment that we can get. It's not our guests fitting around our schedules but it's about us creating an itinerary that is going to be life-changing for them"
Stephanie Bonham-Carter, Co-Founder.
Child-Friendly Accommodation
Family Suite
Our three-bedroom Family Suite has inter-connected rooms, three bathrooms and easy access to the main lodge and Kids' Club playroom, making it ideal for multigenerational families and families traveling with younger children,
SEE OUR FAMILY SUITE
Safari Tents
Our Safari Tents permit one extra bed and a baby cot. For large families we can offer tents that are close together with an intercom monitor if required.
SEE OUR TENTS
"Would we, like most visitors to the famous islands off of Ecuador's coast, explore by cruise ship? The see-sawing surf keeping us awake at night, a cabin too minuscule in which to cartwheel, a father constantly on edge as his daughter careers towards the precipice of the deck… Hmmm. There had to be something more soothing, more expansive. Enter Galápagos Safari Camp."
Flexible Family-Friendly Itineraries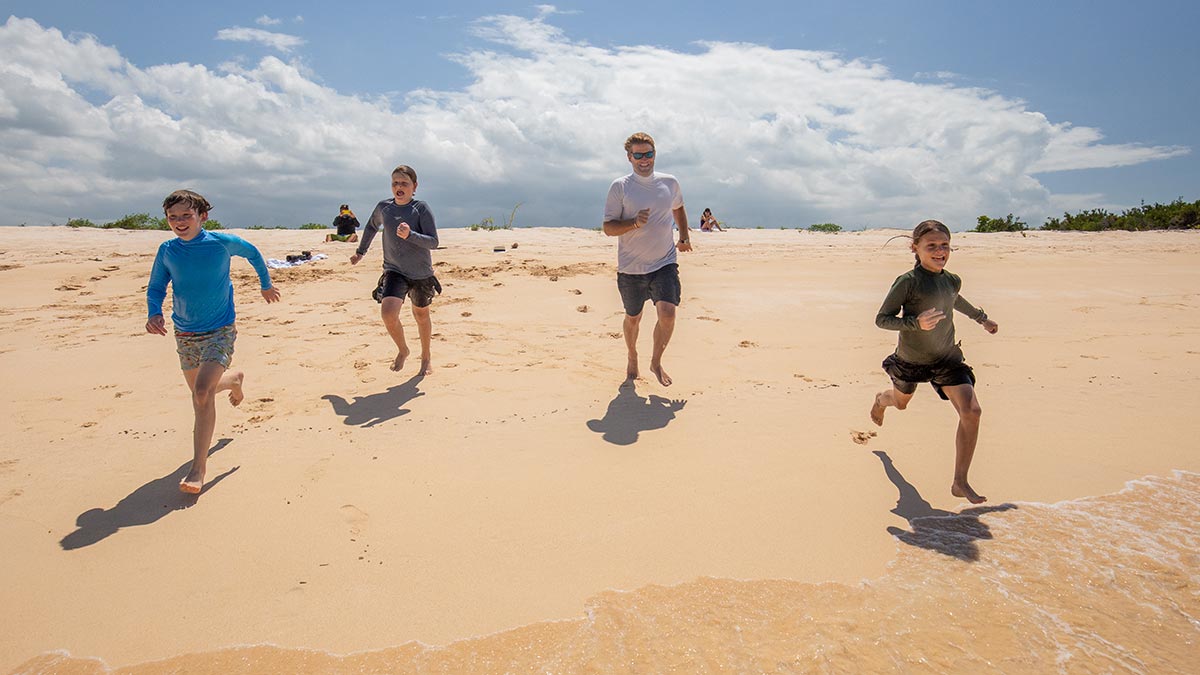 A personalised itinerary for your family
Our tailor-made Family Safaris are carefully crafted to accommodate every member of the family. Depending on the needs and interests of your family, our Safari Designers can offer suggestions and tips to get the very best out of your stay in the Galapagos Islands.
Safari adventures on land and sea
We recommend a combination of land-based activities on Santa Cruz Island with a couple of day excursions at sea exploring some of the uninhabited Galapagos islands and learning about their remarkable wildlife. It is also possible to extend your Family Safari to include Isabela Island.
Family Friendly Galapagos Guides
Families are paired with kid-friendly guides who understand that children's attention spans may not always be as long as their adult counterparts. Our guides are experienced in engaging children and making their Galapagos experience meaningful, educational, and above all, fun!
How to make your safari family-friendly?
If you would like more information about our Galapagos Family Vacation Packages please contact one of our Safari Designers. You can also see our Guide to the Galapagos Islands with Kids for more family-friendly tips and recommendations.
Central Location
The location of our camp – bang in the middle of the Galapagos archipelago – offers families the best of both worlds. Its close proximity to uninhabited islands and visiting sites on Santa Cruz offers a wildlife experience that is both practical and enjoyable for children. As parents ourselves, we understand that travel time plays an important role in a family vacation. No child likes to be confined to boat cabins and vehicles for hours upon end.
Our setting – 55-acres in the forested highlands – also gives children the space and opportunity to run around freely at the end of each day. At Galapagos Safari Camp, parents need not worry about their kids getting cabin fever or seasick at night.
SEE OUR LOCATION
Family Travel Expertise
Our owners' children, Lawrence and Jasmine, were born and brought up at the Camp for the first years of their lives, giving us both privileged and practical knowledge when it comes to helping you plan your family adventure.
Our Family Safaris include activities and experiences that have been tried and tested (and loved!) by Lawrence and Jasmine, as well as their friends. However, we understand that no two families are alike and planning a Galapagos family vacation that caters to every age group and generation can be daunting at the best of times. That's where we step in.
Our Safari Designers understand how precious family vacations are and how important it is to get them right. Our goal is to keep every member of the family happy and tailor the safari accordingly. After all, if the kids aren't having fun, no one's having fun!
PLAN YOUR FAMILY SAFARI
Kids' Club
During the school holiday season, we offer our Kids' Club, with a series of creative activities in the afternoons, while you take time to relax after the day's excursions.
At Galapagos Safari Camp, we pride ourselves on catering to all our guests' needs, and will take any dietary restrictions or preferences into account when planning our menus during your stay. Have a 'fussy eater'? No problem! Simply let us know at the time of booking and we'll do our best to please all palates, regardless of age.
During breakfast, kids will be presented with a question or a fact to ponder over during their day of adventure. Our aim is to spark their curiosity, to deepen their appreciation of the Galapagos Islands and to give their Family Safari meaning and purpose.
Family Event Planning
We love an occasion! If any member of your family is celebrating a birthday, anniversary or any special milestone, our team can help you plan a family whoopee. From surprise tea parties in lava tunnels to personalized birthday breakfasts, let's make your family celebration unforgettable!
Our (appropriately) small infinity pool overlooking the Galapagos National Park is the perfect spot for children to unwind, or shed excess energy, after a day of Galapagos adventure. Parents should note that the pool is unsupervised and children should be accompanied by adults.
Other Family-Friendly Services & Amenities
Milking our cows: Children can learn how to milk a cow by lending a hand on the farm that helps sustain our camp's kitchens.
Kids' Bikes & kids' bike seat: One of the best ways for families to explore the Galapagos highlands is on bike. The camp has a small selection of bikes, including kids bikes, and a bike seat for little kids, for our guests to enjoy.
We also have a number of other kid-friendly amenities in the camp, including kids' wetsuits and snorkeling kits, cots, car seats, booster seats, intercom and highchairs. If there is anything specific that you would like to borrow, hire or buy from us, please let us know at the time of booking.
For more information and tips on planning a family-friendly Galapagos vacation, see our guide to Galapagos with kids.
A few of our
Press Reviews
FT HOW TO SPEND IT
High up in the hills of Santa Cruz, the camp has something rather magical about it.
Lucia van der Post
TATLER
This place is a one-off: a dashing cockscomb of comfort and style atop a 400-metre ridge in the highlands of Santa Cruz… be careful not to trip over the meandering tortoises.
Tatler
EVENING STANDARD
An inventive nightly tasting menu from the on-site organic farm or nearby sea was easily the best food we ate on the islands.
Nick Howells