"Quality family time together beats material possessions, money and career as the key to happiness, according to new research" The Times, UK
In recent years we have seen more and more multigenerational families stay with us at Galapagos Safari Camp; families seeking active, authentic and educational experiences that create closer bonds with their loved ones, in addition to lasting memories.
But as anyone who has travelled with both their children and their children's grandparents will you tell, it isn't always easy keeping everybody content on holiday, particularly in a destination like the Galapagos where so many itineraries are set in stone or so rigorous that the only family member who can keep up is the 19-year-old Ironman triathlete.
Tailormade Galapagos Tours
At Galapagos Safari Camp, however, our Family Safaris can be fully customized to meet the needs and interests of all family members – from babies, toddlers and little kids, and tweens and teenagers, to couples, parents and grandparents – we have everyone's interests covered!
Our safaris can also be either 100% private or semi-private, for example joining other guests on a boat trip. It's completely up to you. Depending on the size of your group, and the options that you chose, it can also be more cost-effective if traveling in a large family pack.
Family Safari Activities

We offer a wide range of activities and experiences on our Family Safaris, from snorkelling, kayaking, surf lessons and fishing trips to exploring uninhabited islands, biking and hiking up volcanoes and across lava fields.
Naturally the wildlife takes centre stage in almost everything we do, and all our Safaris are designed to see as many of the Galapagos flagship species as possible. As with any wildlife experience, it is impossible for us to guarantee sightings of any particular species, but if there is any animal you or a member of your family is longing to see we will certainly do all we can to incorporate the best possible viewing sites into your Safari.
Depending on the age range in your family, it is also important to factor in some rest time, particularly for the younger and older members of your party. Maybe Grandpa wants to flop in a hammock with The Origin of Species, while Grandma takes a dip in the pool with the finches? And maybe little Joe might like to unleash his creativity in our Kids' Club, allowing mum and dad some timeout to explore the Galapagos highlands on bikes? This can all be arranged.
Special occasions
Many multigenerational families come to the Galapagos to mark a special occasion like a Golden wedding anniversary or 50th birthday. Celebrating the event with people you love the most is arguably the most memorable gift you could give to your family, and a responsibility we do not take lightly. We have a number of ideas that we would be happy to discuss with you, from surprise tea parties in lava tunnels to formal birthday dinners. We fully understand that every moment with your family counts and we pride ourselves on going the extra mile for our guests.
Glamping & Gramping
Modelled after the classic African safari camps, Galapagos Safari Camp was designed with Appropriate Luxury in mind, and with all age groups in mind. Our nine spacious Safari Tents are equipped with kingsize or twin beds, polished teak floors and ensuite bathrooms with hot water. Raised balconies look out over the Galapagos National Park and Pacific Ocean beyond.
In addition to our tents we have one Family Suite that sleeps six. The suite includes a large deck in which families can snuggle together in the evening for a spot of stargazing.
First-hand experience
The owners and founders, Michael and Stephanie Mesdag, raised their own children at Galapagos Safari Camp; and their extended family often come out to visit them. The evolution of the camp into a safari holiday destination for multiple generations to come together has been something of an organic journey for them; and after a decade of experience in crafting bespoke safaris for families of varying ages, sizes and interests, it is safe to say that your family is in excellent hands!
How to plan your Grand Galapagos Family Safari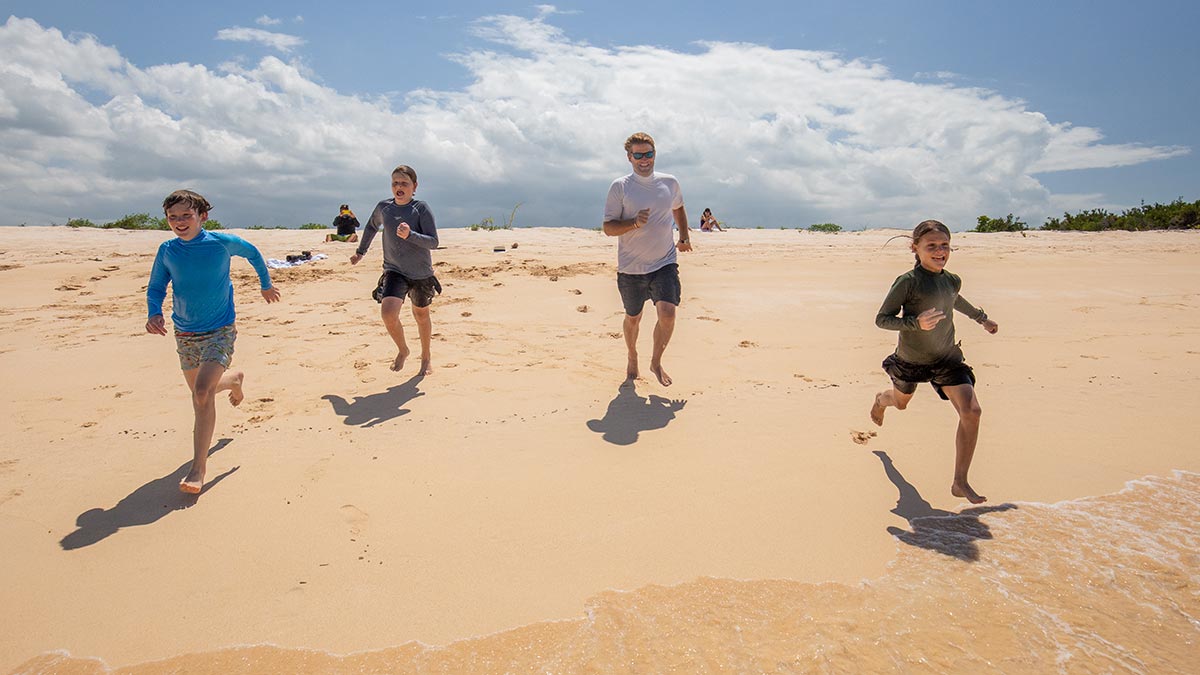 Step 1: Take a look at our sample Family Safari for ideas. Remember it can be fully customised according to the needs and interests of your family.
Step 2: Contact one of our travel consultants for expert advice and further suggestions on how to customize your family safari.
Step 3: We will guide you through the rest, making it as easy and stress-free as possible!
Galapagos With Kids Guide
For more information on traveling to the Galapagos With Kids, see Our Ultimate Guide to The Galapagos With Kids