Why are the Galapagos Islands a great destination for families?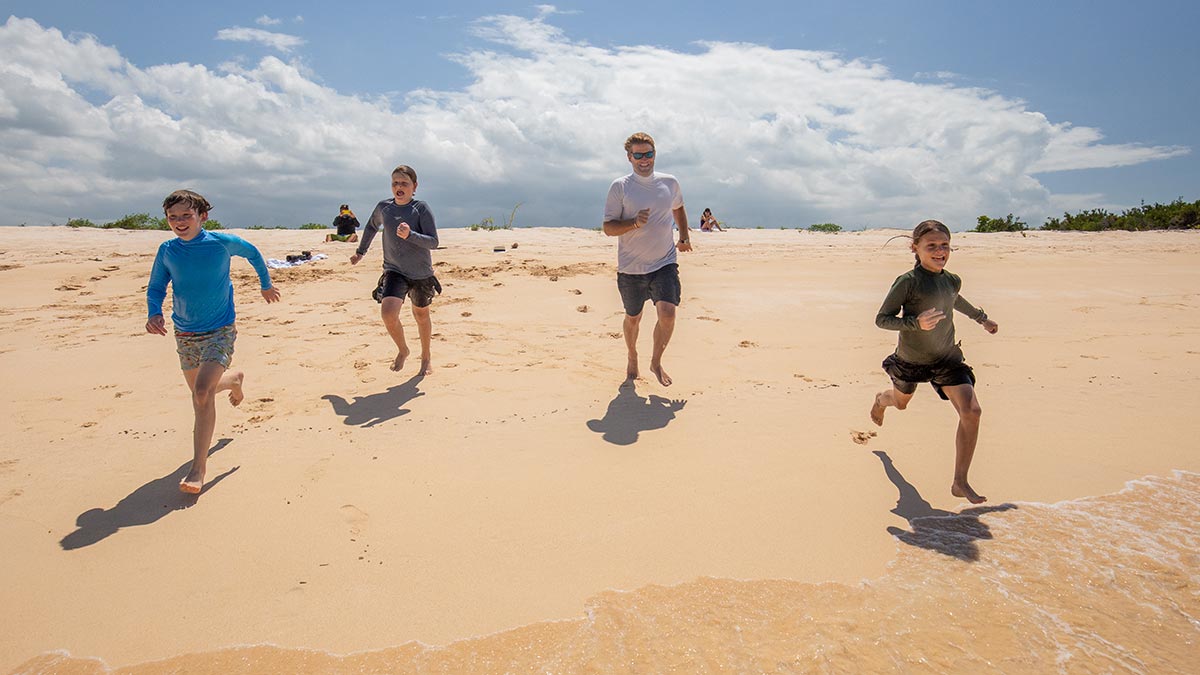 At a glance:
Close encounters with fearless animals

Excellent family-friendly guides

Plenty of outdoor activities (hiking, snorkeling, kayaking, biking, surfing)

Tropical diseases and dangerous animals not a concern

Easy access from North America.

Great weather all year round

USD Currency
The Galapagos Islands are justifiably regarded as one of the best family travel destinations on the planet, and for good reason. The unique wildlife treats human visitors with curiosity as opposed to fear, an unusual trait that captivates travelers of all ages and leads to eye-level encounters with blue-footed boobies and beach-bumming fur seals.
Excellent naturalist guides help visitors explore the archipelago on hiking, snorkeling, kayaking and even mountain biking excursions, much to the delight of active children and teenagers.
Tropical diseases such as malaria and yellow fever are not a concern on the Galapagos Islands, in Quito or in the Andean Highlands. Nor are dangerous animals as you might encounter on an African safari.
The international flight between North America and Quito is relatively short, taking as few as four hours from Miami. The Galapagos Islands also share the same time zone with many US states, making jet leg less of an issue.
And the weather, being equatorial, is reliably sunny and warm for most of the year.
Add in the fact that Ecuador operates on the USD, avoiding any exchange rate confusion, and the Galapagos Islands seem like a no-brainer as a great international destination to explore as a family.
Are my children too young for the Galapagos?
A quick search of online forums discussing family travel to the Galapagos Islands reveals an often-repeated question of concerned parents, "Are my children too young for the Galapagos?"
While opinions vary, I'm here to share that personally, I think the Galapagos Islands are an excellent destination for children of all ages, even little ones as young as two or three. The trick is in selecting the type of experience that is correct for your family and will maximize the enjoyment and amazement of all members.
Should we take a cruise or a land-based Galapagos tour with kids?
"While it is true that a land-based journey will take you to fewer individual islands than a boat-based journey, the diversity and quality of the wildlife viewing and excursions remains the same for all but the most avid birders. (And as this post is about traveling to the Galapagos with younger children, viewing the Waved Albatross on Hood Island is probably not high on the list of priorities.)"
There are two main ways to experience the Galapagos Islands, either by cruise ship, or by land with boat trips during the day, both of which offer age-related discounts for children or price reductions based on shared accommodations.
A Galapagos Cruise with Kids:
Most boat-based explorations follow an itinerary of island-hopping and shore excursions over the course of one week. These itineraries are set in advance by the National Park and alternate (with some variation) between the northwest or southeast clusters of islands, plus a mandatory exploration of Santa Cruz Island and the Charles Darwin Research Station.
Guests dine, sleep and relax on board and join guides on daily zodiac excursions to various islands that likely involve hiking, natural history, wildlife viewing and beach explorations.
Snorkeling is almost always an option and some boats carry kayaks that can accommodate two adults or an adult and a child. Excursions, meals and onboard activities are all enjoyed as part of a group.
Check Age Restrictions
For families considering the boat option, make sure to check age restrictions imposed by the vessel. Many sailings have an age restriction of twelve or older. Family-specific sailings, scheduled to coincide with spring and winter school breaks as well as summer holidays, often have a much lower age-limit of seven or even younger, but it varies from boat to boat.
Sea Sickness & Swimming Experience
Other considerations to keep in mind concern comfort with water and sensitivity to motion.
Can your child swim and are they comfortable wading through knee-waist deep water? PFDs are provided onboard, for snorkeling and during zodiac travel, but comfort with water and some swimming experience would be essential for a child to fully enjoy a boat trip.
Motion sickness is also something to consider. In general, the seas around the Galapagos Islands are fairly calm, especially from December-June, but boats anchored in calm seas can still bob and rock at night. Will this induce nausea or peaceful nighttime slumber? A parent knows best.
Wet Landings
Day trips to the islands often involve 'wet landings' which means that you must disembark the zodiac in the waves and wade to the beach. Parents can certainly carry younger children during this transition, but it is something to keep in mind when evaluating your vacation choices.
A land-based Galapagos tour with kids
A land-based trip to the Galapagos Islands offers more flexibility than a boat and generally doesn't come with any age restrictions. While it is true that a land-based journey will take you to fewer individual islands than a boat-based journey, the diversity and quality of the wildlife viewing and excursions remains the same for all but the most avid birders. (And as this post is about traveling to the Galapagos with younger children, viewing the Waved Albatross on Hood Island is probably not high on the list of priorities.)
What can I expect from a land-based tour in the Galapagos?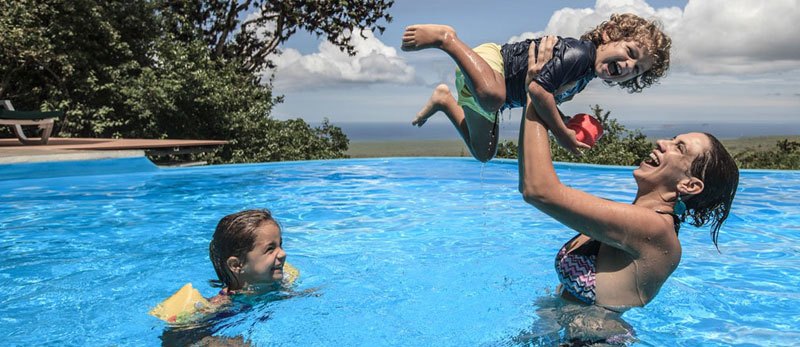 On a land or lodge-based experience in the Galapagos Islands, families can choose between active days of wildlife viewing and snorkeling and also enjoy down time at the lodge or on a beach, providing quiet moments for calm play or reflection after a stimulating day.
Some lodges, such as the Galapagos Safari Camp in the highlands of Santa Cruz, even cater to families with specially designed itineraries that include a private guide who adapts the pace and activity level to suit the abilities and interests of your children.
Day trips by small boat to explore surrounding uninhabited islands are included, but these are interspersed with time spent hiking around Santa Cruz, marveling at the gigantic, free-roaming inhabitants of the adjacent National Tortoise Reserve, spending a day with a local fisherman and snorkeling or kayaking in secluded bays around Santa Cruz.
During school holidays, Galapagos Safari Camp also runs a special kids club that grants parents some afternoon alone time while children engage in a variety of creative activities led by lodge staff and guides.
For parents with young children, there is one important, key difference between a land-based and cruise-based trip to the Galapagos which must be emphasized; on a boat, you are constantly among a group of other, unknown travelers. You eat together, explore together and outside of your stateroom, relax onboard together. Some travelers may view this as a great benefit but for parents with young children, constantly being among strangers without a place to escape to when a "time-out" is necessary can be a great source of anxiety.
On a lodge-based trip, particularly when your family is being escorted by a private guide, parents can rest assured that they have the flexibility to accommodate sudden meltdowns and insert impromptu nap times and snack sessions whenever necessary.
The Benefits of Traveling to the Galapagos with Kids
I'm a parent to two young and very active boys, both of whom have been traveling internationally since their first year of life, given that their mother's family lives in Scotland. So both my wife and I know firsthand that traveling with young children can be challenging and sometimes stressful.
I also concede that some destinations, like Patagonia, are best saved for when children are older and can tolerate longer drives and appreciate a 7+ mile hike. But I don't think that age should be a reason to NOT take children on an overseas trip to a destination that is really well suited to the young and curious. In fact, I think that international travel from a young age provides a great education and helps lay a foundation that allows youth to grow into better citizens of the world on the local and global level.
Spending time with my young family in South America and elsewhere in the world has been one of the best experiences of my life. So don't buy into the idea that there is a certain requirement for exploring a place like the Galapagos Islands with young children. Be honest about the abilities and interests of your child and work with a knowledgable travel agent who knows the boat and land-based lodging options well and can design the perfect trip for your family at any age.
Video: Galapagos With Young Kids
Enjoy the following video that I created from our family trip to the Galapagos Safari Camp.
Galapagos With Kids Guide
For more information on traveling to the Galapagos with kids, see our Family Safaris and Our Ultimate Guide To The Galapagos With Kids
About the Author: Clark Kotula
When Clark isn't traveling he resides in the San Francisco Bay Area with his wife and two young boys. He is an avid traveler, surfer, kite-boarder, mountain biker, scuba diver and filmmaker. Clark studied at Prescott College in Arizona where he obtained a dual degree in Latin American Studies and Outdoor Program Administration. Together with his wife Jacqueline, he founded the non-profit organization "Dental Project Peru" in 2001. The charity provides free emergency dental care and education to the poorest indigenous communities of the Peruvian Andes.