"Would we, like most visitors to the famous islands off of Ecuador's coast, explore by cruise ship? The see-sawing surf keeping us awake at night, a cabin too minuscule in which to cartwheel, a father constantly on edge as his daughter careers towards the precipice of the deck… Hmmm. There had to be something more soothing, more expansive. Enter Galápagos Safari Camp." – Nick Howells, Evening Standard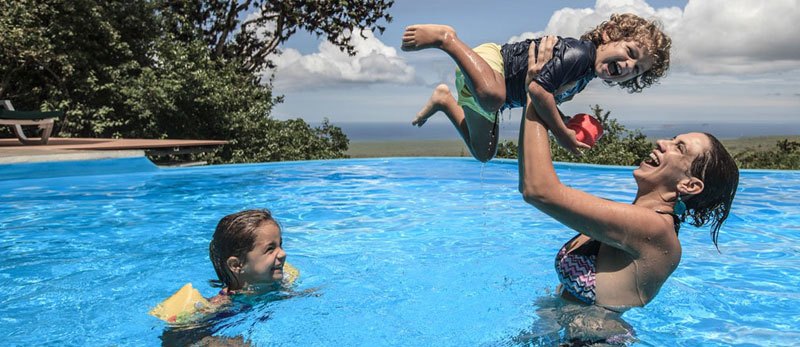 What is the best way to see the Galapagos with kids? On a cruise ship or on a hotel-based tour (also known as a land-based tour)? This is usually the first question parents ask us when planning a Galapagos family vacation. While the answer isn't always clear cut, many families, particularly those with active kids, opt for a hotel.
In this post, we list some points to consider when choosing between a cruise or a hotel for your family vacation.
Combining Family Cruise with Hotel
Galapagos Family Cruise vs Hotel: More Resources
Age Restrictions
For safety and liability reasons most cruise ships in the Galapagos have a minimum age requirement of 7 years. On some boats it can be as old as 12 years or more. But this doesn't mean that the Galapagos Islands aren't a suitable destination for younger children. On the contrary, our camp's founders, Stephanie and Michael Mesdag, raised their own two children here for the first years of their lives. In this time, they have witnessed first-hand the benefits of exposing their children to the many marvels of the Galapagos from a young age.
Whether you are based on land or at sea, the key is finding a tailor-made Galapagos tour that is designed to accommodate the varying interests of all family members, whether that is finger-painting a Galapagos landscape, making Galapagos Christmas tree decorations from wine corks, learning how to photograph giant tortoises or taking a surf lesson alongside marine iguanas. The Mesdags know what it takes to entertain babies, toddlers, little kids, tweens and teens in the Galapagos. They've been doing it themselves, with their own children, for over a decade.
Cabin Fever
Being cooped up on a boat for multiple days with energetic kids can be stressful, not just for the children but also for parents and other guests as well. Obviously every child is different and parents can only be the best judge on whether their child / children will enjoy a cruise.
If you have active kids you may prefer a hotel where kids have the space and freedom to burn off excess energy. Older kids may also appreciate a little more breathing space from Mum and Dad!
Sea Sickness
Sea sickness is hard to avoid when exploring the Galapagos Islands. Whether you are on a family cruise or a land-based tour, you will need to spend some of your time on a boat. The question is how much of your time are you prepared at sea? If you or your children are prone to motion sickness, you may prefer to balance your time at sea with that on land. Wildlife viewings can be just as varied and the experience as a whole may be more positive if you're not having to nurse a sick child all holiday.
Wildlife Viewing
"While it is true that a land-based journey will take you to fewer individual islands than a boat-based journey, the diversity and quality of the wildlife viewing and excursions remains the same for all but the most avid birders. (And as this post is about traveling to the Galapagos with younger children, viewing the Waved Albatross on Española Island is probably not high on the list of priorities.)" – Clark Kotula. Galapagos With Kids: How Young is Too Young?
Flexibility
If flexibility is important to you (which it often is for families), it's worth remembering that cruise itineraries are usually predetermined and often jam-packed. Days usually start early (around 6am). Meals are served at specific times. Guided island tours are conducted in large groups, comprising individuals of varying ages and interests (and levels of child-tolerance!). If your children get tired, remember you can't go back to the boat unless accompanied by a guide. Which would require the whole group having to return.
Our Family Safaris, on the other hand, can be fully customized to meet the needs and requirements of every family member. As all our safaris are personalised, there are no set departure dates, no set meal times and itineraries can be as fast paced, or slow paced as you want. It's your family holiday and if you want to kayak all afternoon or flop on the beach, that's ok. Your holiday doesn't have to follow the rest of the flock.
Special Interests
If a family member has a particular interest that they would like to explore while in the Galapagos, this is something to investigate when choosing between a cruise and a hotel-based tour. At Galapagos Safari Camp, we can incorporate activities such as scuba-diving (including PADI Scuba-Diving Courses), art lessons, mountain biking, surfing, lava tunnel tea parties, chocolate tasting … and a lot more. Tell us what your interests are and we will try our best to incorporate it into your Family Safari.
Medical Emergencies
Nobody likes to think about getting sick on holiday, but if, God forbid, there is a health emergency you will want to be near a hospital and not at some remote corner of the archipelago on a boat. There are two hospitals in the Galapagos, including one on Santa Cruz – the island on which we are based.
Family-Friendly Cruises
For cruise-loving families, there are a handful of Galapagos cruises that have been designed specially for families. We only partner with the best of these. Depending on the ages of your children and family interests, we can give you advice on which cruises we think would be most suitable for your family.
For more information on Family Cruises in the Galapagos contact one of our Safari Designers.
Combining Family Cruise with Hotel
A third option is to combine some time on a cruise and some time at a hotel on an island. Many families opt for this as it enables them to reach more distant islands while also being able to benefit from all the advantages a land-based tour or Family Safari.
For more information on Family Cruises in the Galapagos, and how you might combine one with a Family Safari, contact one of our Safari Designers.
Galapagos Family Cruise vs Hotel: More Resources
For more information about family cruises and hotel-based tours in the Galapagos, please see the following guides and resources:
Galapagos With Kids: The Ultimate Guide
Hotel vs Cruise: Planning Tips