Is October a good time to visit the Galapagos Islands?
If considering the Galápagos Islands for your next vacation, the time of year you visit can shape the memories you'll take home. Let's explore what the month of October in the Galápagos brings to the fore.
Galapagos in October: Snapshot
Ocean currents: Humboldt Current remains influential
Weather: Slightly cooler, with temperatures ranging from 65°F to 78°F.
Seas: Slightly cooler waters with choppier conditions in open sea
Wildlife: Marine life thrives with increased nutrients, setting the scene for breathtaking underwater adventures and diving opportunities.
Galapagos Weather in October
October falls in the middle of the Cool and Dry Season in the Galápagos. Daytime temperatures typically hover between 65°F and 78°F (18°C to 26°C). The surrounding waters, averaging 66°F to 73°F (19°C to 23°C), are refreshing for swimmers and divers alike. Rain remains a rare sight, but the soft embrace of la garua mist occasionally sweeps the landscape.
Galapagos Ocean Currents in October
Galapagos's marine climate remains under the sway of intricate ocean currents. As the year progresses, these currents play a pivotal role in the life that thrives around the islands:
The Humboldt Current: Continuing its dominance from the prior months, this cold current, flowing from the chilly waters off South America, delivers nutrient-dense waters, playing a major role in the teeming marine life around the Galápagos.
The Cromwell (or Equatorial Undercurrent) Current: Running from west to east along the equator, this undercurrent retains its influence, particularly around the western islands like Fernandina and Isabela, bringing up cold, nutrient-rich waters, a process known as upwelling
The Panama Current: Its influence continues to wane as the Humboldt Current takes center stage.
The nutrient surge from these currents, especially the Humboldt, culminates in a marine feast, where plankton blooms, in turn, drawing a myriad of marine species from colorful schools of fish to schools of sharks.
Galapagos Wildlife in October
October continues to charm with its wildlife spectacles. From sea turtles beginning their nesting rituals on sandy beaches to the dramatic mating performances of blue-footed boobies, the islands are abuzz with activity. The seas brim with life, from playful Galápagos sea lions to elegant manta rays, making it a prized time for snorkeling and diving.
Galapagos Adventures in October
As the land beckons with its cooler temperatures, trekking explorations, especially on terrains like the Sierra Negra volcano on Isabela Island, become more comfortable. Cyclists can navigate and appreciate the serene landscapes of Santa Cruz Island.
Those seeking maritime adventures should note the seas become slightly choppier, due to stronger winds. For visitors wary of motion sickness or preferring land-based exploration, our land-based safaris serve as an excellent alternative to cruises.
Galapagos Safari Camp in October
Fearless Galapagos Barn Owls
Galapagos Safari Camp in October is, as with any month of the year, full of wildlife surprises. This month a juvenile barn owl has been sighted a number of times in the outdoor bar area of the main lodge, casually perched on the tap of the kitchen sink!
Curious Giant Tortoises
This photo of the dining area in the main lodge was taken in October. Can you spot the giant tortoise who has come to say hello?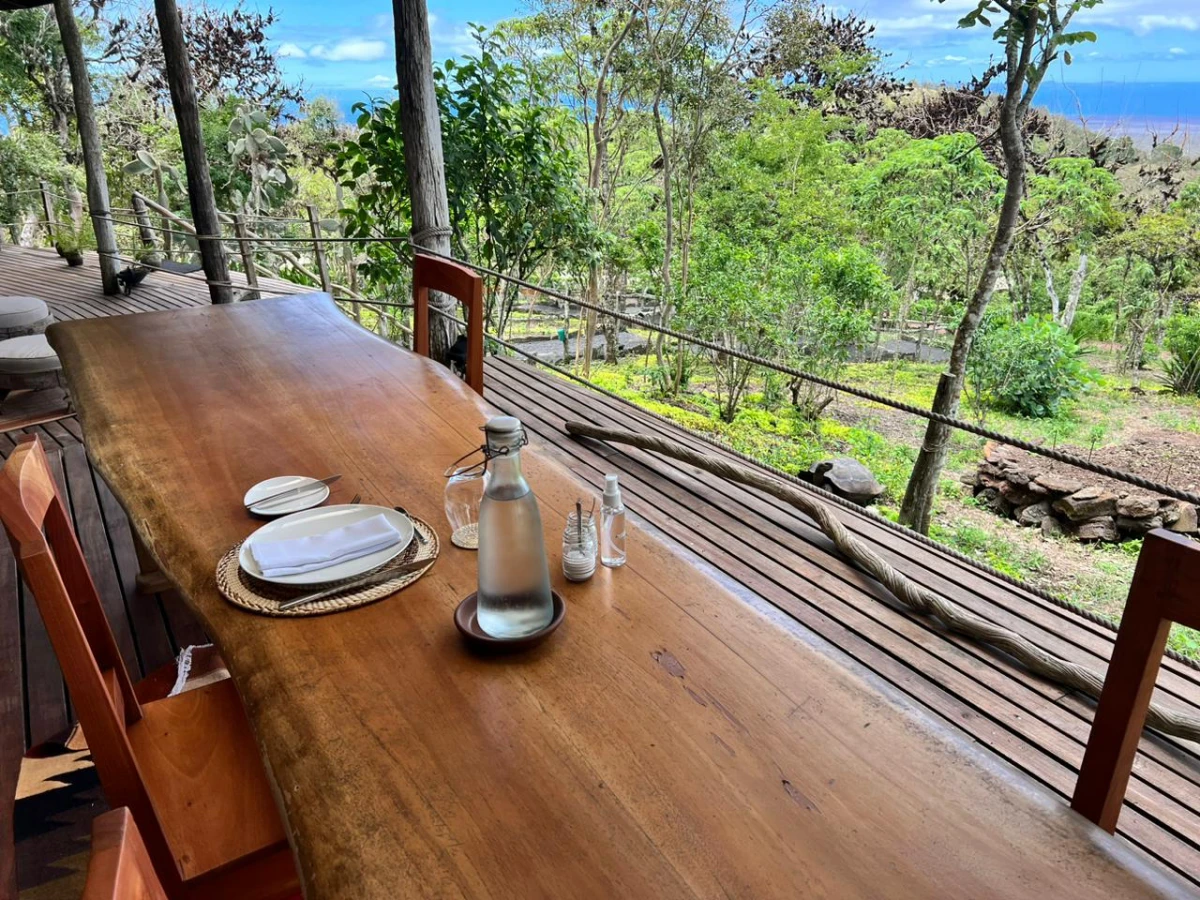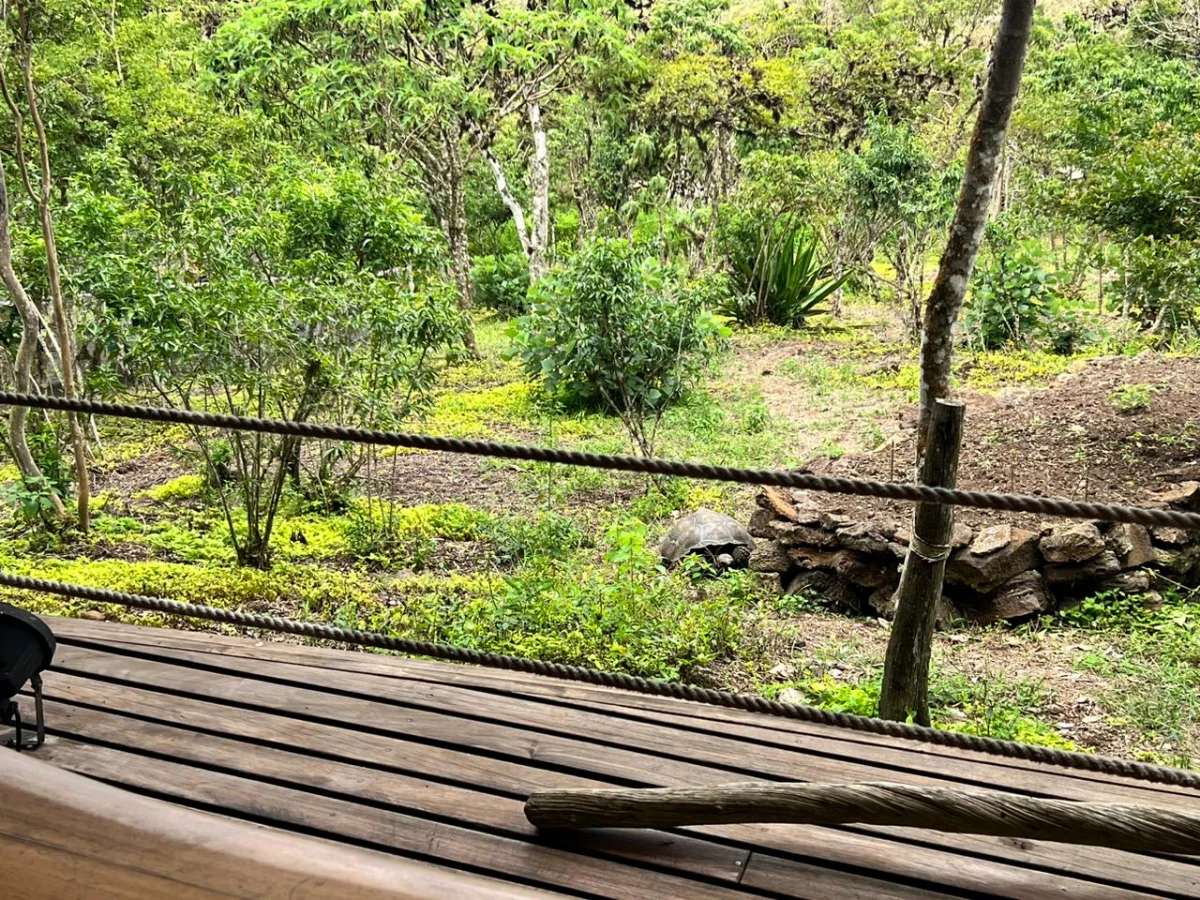 A seasonal welcome drink!
This month, our creative barman, Jorge, crafted this refreshing welcome drink for our guests. Using a syrup made with the mandarins collected from the camp last month, and a butterfly pea tea sourced from the mainland, it is a wonderful cooling treat that travelers won't find anywhere else. (We think it would go nicely with a spot of gin as a sundowner, too!).
Mainland Ecuador in October:
Mainland Ecuador in October is as diverse as its topography, from the humid depths of the Amazon to the cool highlands of the Andes. Let's explore what each region offers during this month:
Amazon Rainforest:
Weather: The dry season continues with reduced rainfall, making the forests more accessible.
Attractions: Reduced water levels attract animals to concentrated water spots, amplifying the chances of sightings.
See our Amazon Tours
The Andes (including Quito):
Weather: Crisp conditions prevail, with Quito experiencing temperatures between 64°F and 74°F.
Attractions and Events: Apart from the beauty of the Andean landscapes, local indigenous festivals can offer a deep dive into Ecuador's cultural richness.
See our Andes Tours
Cloud-Forest:
Weather: The cloud forest has a relatively cool and humid climate year-round. In October, daytime temperatures usually range between 60°F to 70°F (15°C to 21°C). Nighttime temperatures can drop slightly lower, depending on the elevation.
The cloud-forest receives heavy, yet intermittent rainfall throughout the year. Likewise high levels of humidity can be expected all-year round.
Attractions:
At Mashpi Lodge, guests can enjoy guided tours to explore the unique biodiversity of this area, from vibrant bird species to elusive amphibians.
See our Cloud-Forest Tours
Wildlife Disclaimer
Our wildlife observations are based on our own personal experiences, combined with the insights of our guests and guides. However, nature is unpredictable, and we can't guarantee sightings of specific species or behaviors.