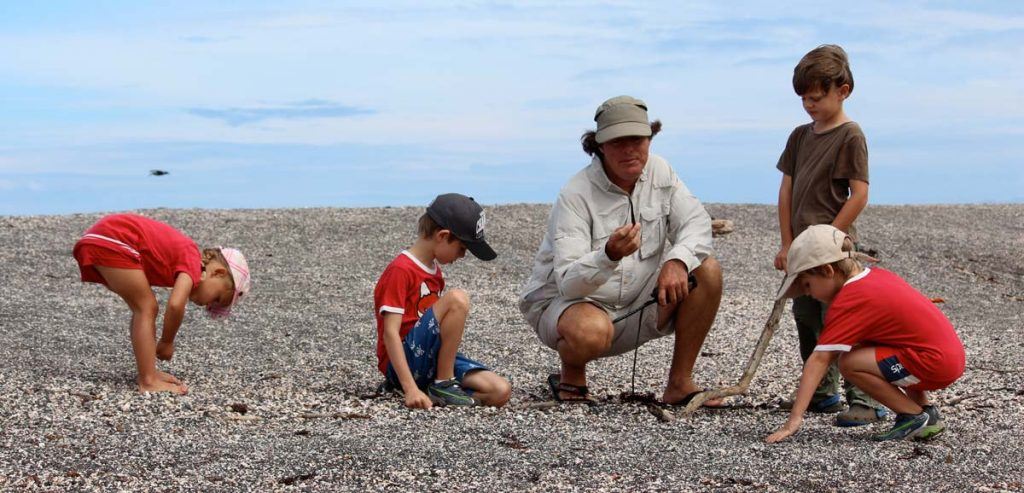 The more preparation you and your children put into your Galapagos safari, the more you will all get out of it. Discover the best ways to get your family ready for their vacation of a lifetime.
Introduce your kids to the Galapagos flagship species
The drama of the landscapes and the wildlife of the Galapagos is palpable –  imagine witnessing the great blackened rock formations, dinosaur-like creatures, and multi-colored birds through the eyes of a child. But when you know what you are looking for (and, almost certainly, find it) the thrill is all the greater.
Encourage your children to learn how to identify the flagship species like blue-footed boobies, sea lions, Scalesia trees and Galapagos penguins. There are also plenty of less common creatures, like the extremely odd-looking ocean sunfish, to learn about; sighting one becomes the precious prize to a daring challenge. Use fun, games and story-telling to pique their imaginations.
Galapagos Documentaries for Kids
Sit down as a family to watch one of the myriad Galapagos documentaries, like Galapagos with David Attenborough, filmed with special 3D cameras to delve deep into the islands (look out for Galapagos Safari Camp on the third episode!)
Galapagos Podcasts for Kids
What better way to pass a long car or plane journey (and quieten the cries of, "When are we going to get there?") than to listen, as a family, to a Galapagos podcast? One of our favorites, Galapagos Islands: A little World Within Itself, is by Sarah Darwin, the great explorer Charles Darwin's great, great granddaughter.
We also recommend:
These Kids are Hoping to Save Galapagos Tortoises and their Own Homes from Climate Change
The Tale of Darwin and the Beagle (skip the first two minutes!)
Galapagos Books for Kids
Stock up on books and allow their imaginations to run riot.A surefire way to get the family clued up and stoke their imagination and inspiration is through the hundreds of books available on the Galapagos for all age groups. Reading these poetry, science, coloring and story books together also encourages pre-vacation bonding. Though the list is almost endless, some of our favorites include:
(please note that the age guides are approximate – you know what level your kid should be reading!)
Age 2+
A Blue-footed Booby Named Solly McBoo 
Tomas and the Galapagos Adventure
Grandmother Fish: A Child's First Book of Evolution
Age 5+
The Adventures of Piratess Tilly
Island: A Story of the Galapagos
We're sailing to the Galapagos
Life on Earth: The Story of Evolution
Age 8+
Where are the Galapagos Islands?
An Old Shell: Poems of the Galapagos
Charles Darwin and the Beagle Adventure
Charles Darwin (Giants of Science)
The True Adventures of Charley Darwin
Young adults
Monkey Town: The Summer of the Scopes Trial
Charles and Emma: The Darwins' Leap of Faith
Manage expectations but feed the excitement
Make sure that your trip is 100% wonder and 0% disappointment by explaining to your children what to expect from the vacation, both the good and the bad. Ease in with the boring parts.
Galapagos safaris are all about the wildlife and there's not much else in terms of entertainment; Wi-Fi and electric devices are often pretty redundant here. There are boat rides of up to two hours between islands, where you go is restricted by park rangers, and you definitely can't touch the animals.
With the reality check out of the way, it's time for the magic. Your children will never be closer to wild animals, they'll be sleeping in a luxury tent in the wild, strolling with giant tortoises, discovering active volcanoes, swimming with penguins, and learning how the world – and everything in it – came to be how it is. Netflix can take a hike.
Learn to swim and to snorkel
The islands are incredible, but the waters around them are magic. Although you will be accompanied by an experienced guide and there's never any obligation to take a dip, it is important that everyone in your family is a confident swimmer, or at the very least feels comfortable out at sea. If you can snorkel, a whole underwater world opens up teeming with incredible creatures and colors. It's a great motivation and sense of achievement for a child who doesn't normally like to get wet.
Study some Spanish
Most guides and people working around the Galapagos (and certainly at Galapagos Safari Camp) will know a little English, but it might help your kids to feel more confident and adventurous if they learn some Spanish basics before arrival. Numbers, please, thank you and introductions are a great place to start (here are some suggestions), but you could also get clued up on some of the animals you're likely to spot, and the experiences you're likely to have. For example:
Playa – beach
Lancha – boat
Isla – island
Lobo del mar – sea lion
Pingüino – penguin
Tortuga – turtle
Piquero de pata azules – blue-footed booby
Tiburón – shark
Ballena – whale
Engage with Galapagos Safari Camp kids' activities during your safari
The learning and preparation doesn't stop once you are on the islands. Carefully selected, family-friendly guides know how to connect with children and encourage them to ask questions (come with your own prepared list) during expeditions. And once back at the Camp, quotes and quizzes over breakfast and dinner and creative kids' club activities, like making blue-footed boobies and marine iguanas with cork, are a fun way to reinforce and complement new knowledge.
Plan your Galapagos Island Vacation!
See our Safari Holidays for our suggested Galapagos itineraries and recommended activities.
You might also be interested in:
Seven Life-Changing Lessons for Kids During their Galapagos Experience
Ten Things to do with Kids in the Galapagos
How Young is Too Young for the Galapagos?