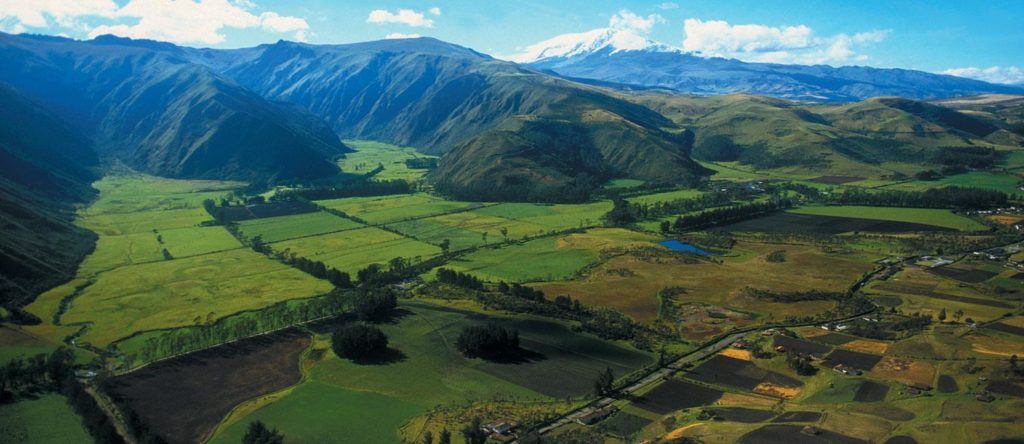 Huddled up by a crackling fire in the grand mansion, tired and content having spent the day roaming across volcano-spiked sierras on horseback, one cannot help but feel like Andean nobility. Hacienda Zuleta, a 15-room, boutique hotel in Ecuador's northern highlands, takes the concept and runs with it. It is a sanctuary of luxurious escapism into the folds of Ecuadorian tradition with all the grandeur and rustic, macho adventure that comes with the rugged territory. An ideal three-day extension to your Galapagos safari before you depart the mainland for the enchanted islands, Hacienda Zuleta rounds out and completes your stay with an immersion into Ecuador's culture and most romantic way of life.
History of Hacienda Zuleta
The hacienda's rich historic tapestry – every bit as intricate as Ecuador's – partly explains the sheer romance and ambience of the place. Dating from the late 17th century, Hacienda Zuleta is a 4,000-acre colonial working farm that belongs to the family of Galo Plaza Lasso, one of two former presidents of Ecuador to have lived in the property. It is brimming with antique furniture and art, every armchair and dining table certain to have once been occupied by one of the country's most prestigious icons. Located just over two hours to the north of Quito amid the lush valleys, lakes and volcanoes of the Imbabura region, Zuleta is also a key piece in Ecuador's pre-Incan puzzle, one of the best-preserved mound sites of the ancient Caranqui people in the country.
What to do at Hacienda Zuleta
But in spite of its rich history, Hacienda Zuleta is no museum piece – this is a place of action and experience. The breath-taking landscapes, snow-capped mountains, shimmering lakes, magnificent condors, and unusual flora tell just part of the story – the rest is for guests to live themselves with hands-on, authentic experiences. There are hikes and bike-rides across craggy hillsides and visits to a traditional cheese factory and embroidery museum. There are bird-watching days and horse-drawn carriage drives. And there are luxurious rooms and dinners of trout caught fresh from the lake and vegetables pulled from the garden – open invitations to experience Ecuadorian tradition around the hacienda.
Horseback Riding at Hacienda Zuleta
Horses form a great part of this unique culture and Hacienda Zuleta has its own breed: the Zuleteño. A distinctive combination of Andalusian, English, and Quarter horses, the outcome of this cross-breeding is a robust, noble, and smooth Andean horse with a perfect disposition for trail riding. It is said that the Ecuadorian highlands might have been created for this purpose alone: historic haciendas spaced at perfectly ridable distances, stunning views, and plains and gentle slopes crying out to be taken at a gallop. Zuleta not only provides the horses and equipment for this thrilling experience but the authentic companions too, traditional horsemen known as chagras whose presence and knowledge add further mystique to the romance of the expedition.
Family Adventures
The romance and daring are bound to capture the imagination of children of any age. As well as having the entire hacienda and its grounds as a playground, children can live their own rustic adventure: milking cows, learning how to use a lasso and roasting marshmallows on the bonfire like all the great cowboys. The friendly and well-trained staff are delighted to supervise all activities, or to allow families to bond on their own.
Conservation and Community at Hacienda Zuleta
The hacienda's owners understand their responsibility towards their surroundings and community: people and places who form the backdrop to lasting memories. That is why they established the Galo Plaza Lasso Foundation in 1995, a collection of projects aimed at preserving culture and the environment as well as promoting development within local societies. There is the Condor Huasi Project to nurse injured condors back to health, a library and education scheme for local children, a traditional embroidery program, and the opportunity for guests to meet and connect with indigenous families and their way of life.
Hacienda Zuleta imparts a sense of place and time in every way, allowing guests to share the romance of the authentic Andean experience. Feeling like aristocracy for the day is just the beginning.
See Hacienda Zuleta rates and itineraries
Plan your Galapagos Island Vacation!
See our Safari Holidays for our suggested Galapagos itineraries and recommended activities.
You may also be interested in:
Ecuador for Foodies
Above the Giants: A Helicopter Ride in Quito